Penname:
Bbear61 [Contact - ]
Real name:
Becky
Member Since:
2005.01.20
Last Login:
unknown
Website:
www.sugarquill.net
Bio:
Born on January 1st 1992. Currently resides in Edmonton, Ablerta, Canada. Enjoys reading Lurline Mcdaniel books. Loves to read Harry Potter books.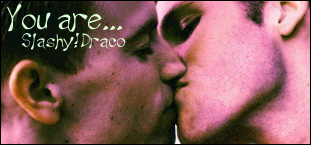 You have many varieties. You may be paired with Harry, Ron, or even Snape. It is hardly ever a problem that you're gay, only that your crush is supposed to be your enemy (or your teacher). You are sometimes tormented by your feelings, moping until something happens to force you and your crush together. Other times, you are extraordinarily open about it, teasing the boy of your affections until he finally comes out (bad pun) of his shell and says that he likes you too. Once you and your crush get together, you are sweet and affectionate, but bitchy enough to stay in character. You are nearly every HP slash fan's favorite. Explains the long description here, doesn't it?

Find out which Draco you are.
Fun Hermione!
What kind of Hermione Granger are you?
brought to you by
Quizilla
You are Ron! People may think you're a little half
witted, but you come up with the Master Plan!
Bust out the oozies and be proud! So what Harry
and Snape don't love you back!? You can always
follow the butterflies!
Which Potter Puppet Pal Are You?
brought to you by
Quizilla
Beta-reader:
No
Membership status:
Member
---
Instant Message:
[&nbsp&nbsp&nbsp
None&nbsp&nbsp&nbsp|&nbsp&nbsp&nbsp
None&nbsp&nbsp&nbsp|&nbsp&nbsp&nbsp
None&nbsp&nbsp&nbsp|&nbsp&nbsp&nbsp
None&nbsp&nbsp&nbsp]
---
Communication:
[&nbsp&nbsp&nbsp
None&nbsp&nbsp&nbsp|&nbsp&nbsp&nbsp
None&nbsp&nbsp&nbsp|&nbsp&nbsp&nbsp
None&nbsp&nbsp&nbsp]
---
Creative:
[&nbsp&nbsp&nbsp
None&nbsp&nbsp&nbsp|&nbsp&nbsp&nbsp
None&nbsp&nbsp&nbsp|&nbsp&nbsp&nbsp
None&nbsp&nbsp&nbsp]
---
---